Meet: Sensurian – a nerve messenger cell that travels at the speed of thought in a burst of energy – and one of the lead female characters in our digital comic book. She delivers messages from the Council of the Mind to the rest of the body, warning of attacks and preparing the B-Cell warriors to align their forces.
Designing a Comic Book Character
Sensurian is a neuron, meaning she processes and transmits information through electrical and chemical signals. To design a "nerve messenger cell" as a comic book character was tough, and involved plenty of back-and-forth between the artists on our team. We wanted her to appear effervescent and energetic, to convey the important role she plays inside the body of our host. After all, she's responsible for coordinating between the wishes of the Council of the Mind, and the actions of the body's natural defenses.
Playing Two Roles
She also carries something else: a crush on Blastor, the superhero of our story and leader of the B-Cell warriors to whom she relays valuable messages. Just like in any comic book romance, there's plenty at risk for these two characters to take their relationship to the next level…and if the feelings aren't mutual, it could wreak havoc on the entire system.
Will Sensurian remain true to her role as a messenger cell? Or will she become too "neurotic" for her own good? (hehe)
We felt like she could use a little extra luck this St. Patty's Day so we armed her with a pot of gold and a four-leaf-clover. To find out what really happens to Sensurian, sign up for a free copy of our digital comic book about the battle that wages within us all!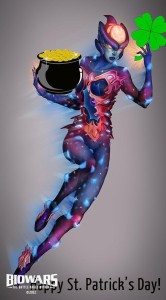 Categories: