Dark Horse Comics just announced a digital comic version of the original Star Wars screenplay!
The Force Lives On
The original galaxy located far, far away will be coming much, much closer to die-hard fans and hobbyists in September. According to Dark Horse Comics, the original draft screenplay for the 1977 film was discovered by J.W. Rinzler, executive editor at LucasBooks who is dubbed as "their own Indiana Jones". Rinzler described the draft as "hallucination to read" – a review in itself that makes you want to drop everything and devote your full energy into into securing a copy. Luckily, Dark Horse and Rinzler presented the idea to George Lucas – and succeeded in securing the rights for a digital comic book adaptation.
The most exciting part is what this means for the Star Wars franchise. The series originally went digital in July of 2011. Then earlier this year Disney announced its purchase of Lucasfilm – a move that resulted in many Star Wars fans fearing what this could mean for the Empire. Now, bringing the original screenplay into an adapted digital comic book, Lucas' original vision will not only be preserved, but re-energized. Preview art by Mike Mayhew (of Avengers) is sure to inspire new fans and old ones alike.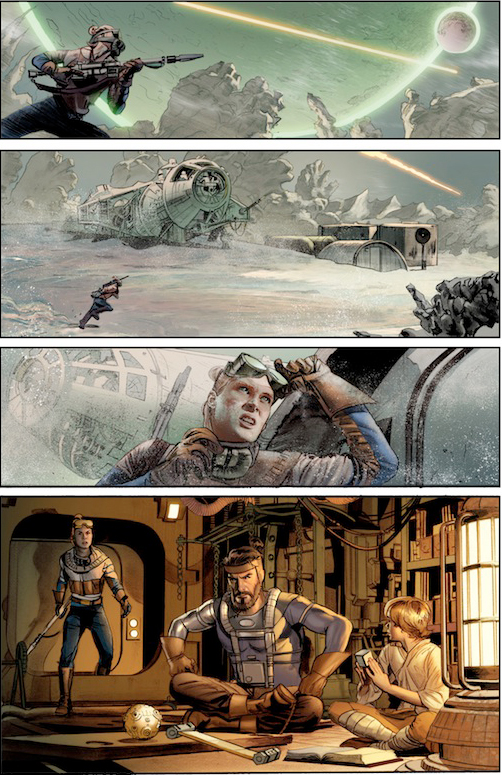 How to Handle the Wait
1. Put on your Stormtrooper bathrobe.
2. Follow @Biowars for more digital comic book news.
We've got our own digital comic series coming out soon! Biowars is a free comic book about the battle that wages within us all, between the cells of our immune systems versus noxious invaders like eColi bacteria. Check it out!
Categories: