With the introduction of new technologies, tablets, e-readers, and an increase of mobile device usage, consumers are constantly seeking information on the go. Accessibility of content is increasingly simplified as technology moves us deeper into the digital age.
Digital comic books  are going mainstream across the world, as they are readily available on a global basis, allowing for the quick distribution of content while on the go. Although there continues to be a rise in digital comic book popularity, the popularity of print is expected to remain, as there is still a lot to be said about having a tangible item to immerse yourself in.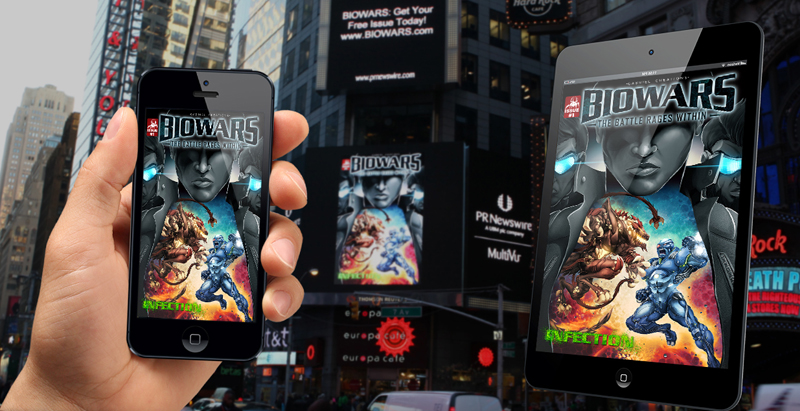 With increased ease of distribution, the industry are attracting new tech-savvy readers, expanding the overall popularity of comics in society. Comic books stories and their characters continue to arise in movies, so clearly, the tech-savvy audience is there, and are exposed to the story lines and hype of the comic book world. With the expanding technologies, they are available worldwide, allowing them to go mainstream quickly.
Now, with this spike in digital comics, one would assume that the demand for print comics would decrease. On the contrary, the market is expanding rather than the current readers just switching from print to digital, resulting in an increase in readers. The immense accessibility of the digital realm is creating hype for the comic book industry overall, so the print industry is seeing a spike in popularity as well.  Comic book enthusiasts are able to collect their print copies, but also enjoy the perks of easily accessible content through the digital sphere.
Those readers that may be new to the comic book world are able to test out the content by exploring different artists and comics simply, rather than by going into a brick and mortar outlet and purchasing an individual issue. Not to mention, the digital sector of the comic world is an eco-friendly way to push content out to readers without printing each issue.

We expect to see continuous growth within the digital comic book sector with the ease of digital subscriptions, as readers may subscribe to automatically receive the newest issues in their inbox. For example, Biowars has recently launched their digital comic book, and are able to reach a broad audience. This provides fans with content previews of the latest issue releases. With 24/7 simply accessibility across the globe, digital comic books will continue to be a growing channel in the industry for the future.
Categories: