Every month we talk about the best new comic we've gotten our hands on. From one shots to first issues to trade paperbacks, we'll cover everything you may not have had the chance to read.
---
Up this month is the new comic from Skybound and Image, Manifest Destiny. In 1804, Lewis and Clark set out across the untapped American wilderness in search of… monsters. While this may initially sound like another cheap rip on American history, like Abraham Lincoln, Vampire Hunter, you're not entirely wrong. According to writer Chris Dingess:
"I was on vacation with friends, I was drinking and complaining about how there's this new trend in pop culture of taking historical figures — real ones like Abraham Lincoln or fake ones like the characters in Sense & Sensibility or Pride & Prejudice — and throwing them into this monster-killing fictional universe. I was like, "God, you can just take anything. You could just take Lewis and Clark, and instead of exploring America, they were really killing monsters!" And then suddenly, I was like, "Wait that could actually be fun." I stopped complaining about it and started trying to find a way to make money off of it, like any good American."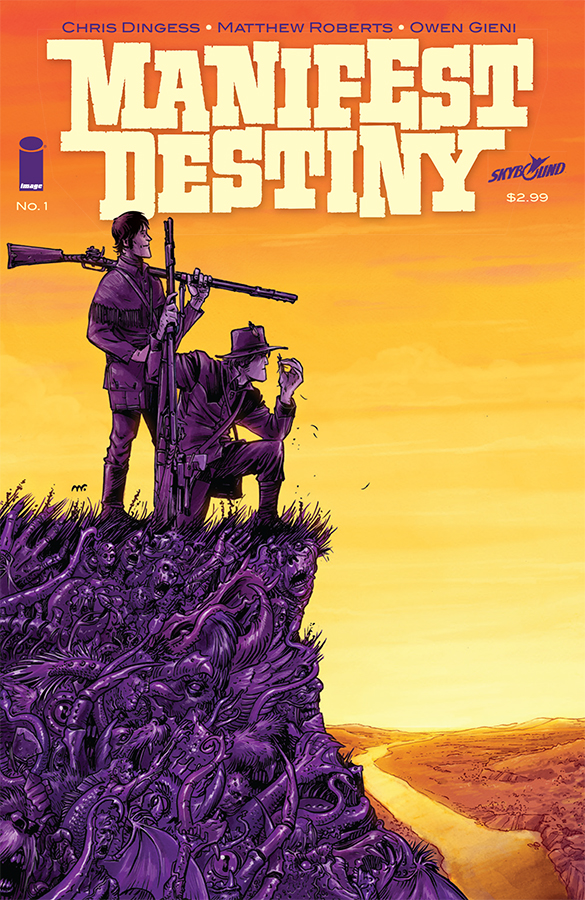 While Dingess is quick to poke fun at his idea, nothing about this feels like a cash-in. As Lewis and Clark trek out into the wilderness with a gang of mercenaries, the monsters and fantasy elements preserve the feeling of awe the early explorers must have felt cutting through the brambles and meeting the native people.
The writing here is excellent, but it's the artwork by Battle Pope veteran Matthew Roberts that steals the spotlight. Vivid illustrations, memorable character designs, and creative paneling open up this strange and beautiful world, and you'll spend extra time on every page just taking it in.
Buffalo men, plant zombies, and an unbelieveably cool take on Sacajawea make this comic a must read. The trade paperback edition of Manifest Destiny is available in any bookstore, and on most comic book apps.
For more comic book news and reviews, be sure to check back frequently. Have a suggestion for something we could cover? Leave the title in the comments below. And don't forget to take a look at our free online digital comic, Biowars.
Categories: