What do you get when you cross a comic book artist and a comic book writer? A comic book letterer, of course. And though the skill might not appear as earth shattering as these other professions, this love child is not only a bona fide line of work, it also plays a vital role in determining whether the story makes any sense at all.
So, rather than walk you through what is a fairly straightforward process of "drawing pretty words", Biowars is going to give you a little background on comic book lettering itself. After all, history can be pretty interesting when it's about one of your favorite subjects. With that, let's start things off at the very beginning.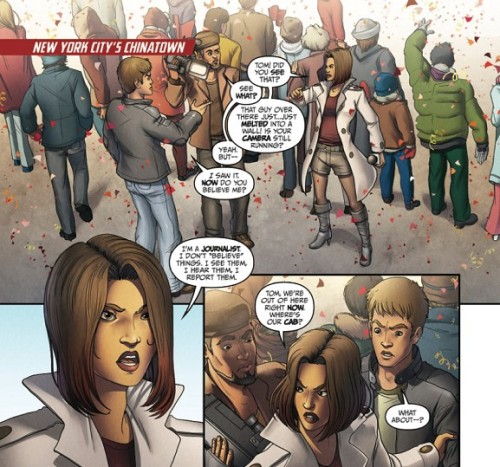 Where Comic Book Lettering Began
The first comic book was printed in the United States in 1842. Yes, you read that right – 1842. It was a hardcover edition titled The Adventures of Mr. Obadiah Oldbuck, which told the story about a man named Mr. Vieux Bois who falls in love with an overweight young woman.
At the time, this and other comics used what is now known as "text comics", where the image was placed above the comic's storyline in a style many Sunday comics use to this day. But then came along the Golden Age of Comic Books in the late-1930s, and everything changed quickly thereafter.
During the Golden Age, comic books were created in an assembly-line process, dividing tasks among comic book writers, artists and letterers to deliver the end product. Broken down systematically: first, the writer created the story, then a pencil artist roughly laid out each of the comic book's scenes. Afterwards, a letterer inserted the story and a comic book character's dialogue into the frames, who then passed it on to an inker that finalized the drawing and lettering. Finally, the line ended when everything was given to a colorist who got out their "crazy crayons" to add the decided-upon palette.
Uncomplicated in their approach, these early comic books primarily featured word-balloons and thought-bubbles, along with square or rectangular storyline excerpts. Yet, as simple as it appeared to be, artists and studios wanted little to do with comic book lettering in-house, and often sought out freelancers to get the job done; freelancers who made a fairly good living, by the way.
And thus a career was born, with many of the best freelancers in the industry later getting scooped up and employed full-time by comic book industry's major players at the time, some of whom still dominate the field.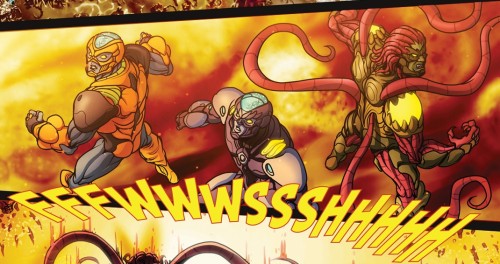 The Lettering Evolution
Fast forward to the 1980s when personal computers came on the scene, and what began as a hand-drawn art began sprouting into the field of computer generation. Enter writer and artist John Byrne, who used computer-generated lettering based on the handmade comic book fonts of other artists. Nevertheless, it wasn't until the first commercially available font "Whizbang" came on the scene around 1990 that the comic book industry really saw the greatest impact.
Within a few years, computer lettering in comic books was pretty much a standard process, particularly with the introduction of Comicraft, who was and still is a leading source of fonts and lettering for the industry. Interestingly, however, while fonts had largely moved to being computer-generated, comic book art had not. This meant these thought-bubbles and word-balloons had to be printed, cut out and pasted to the original artwork.
Is this still going on today? Yeah, not so much. While there are still a few independent studios and publishers who create all of their comic books by hand, nearly everyone in the comic book industry has moved on to desktop publishing. And why not? By combining digital art files in lieu of printing, cutting and pasting, you're not only cutting down the time it takes to assemble the final comic book, you're also eliminating the exposure of your colleagues to glue fumes – even if it does make for a fun Friday afternoon.