Can comic books be truly enjoyed on tablets and smartphones?
Many are hesitant to welcome this new format with open arms. Who doesn't love the sound of a fresh comic book landing smack on your desk? Leafing through shiny, glossy pages and peering at our favorite characters as they catapult across the pages and cartwheel into different adventures. Rolling up your comic at the end of the day and stuffing it into you backpack (depending on the issue, of course), where it's ready to rescue you from biology class.
Let's review the main benefits of digital comics compared to print:
1) Take Them Anywhere.
This one's easy. You keep your comics with you on your tablet or mobile device, and say bye-bye to crinkled pages. Everything's stored in one neat place, ready for you to resume the adventure wherever you last left off.
2) Enjoy a Richer, More Engaging Experience.
Certain storytelling elements are depicted in a way you simply cannot present with print. The artwork basically comes to life. 
For example, look at page 1 of Thrillbent's Insufferable Vol. 2 Issue 10: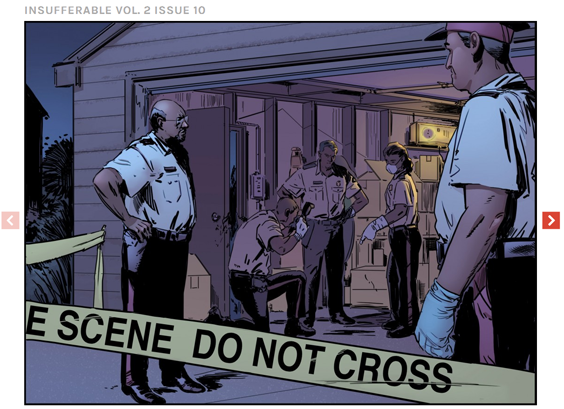 In page 2, you feel the flash of the camera with just a click of your mouse: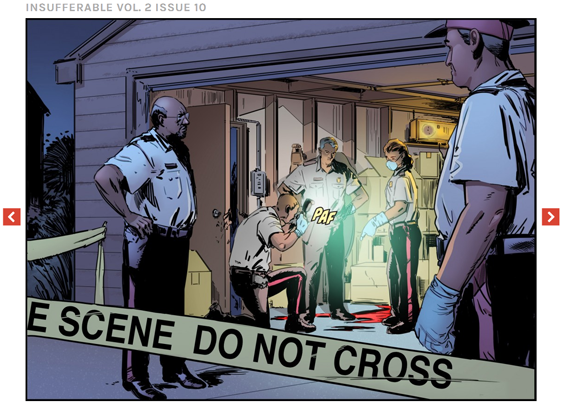 3) Reference Your Archive in One Tap
Keep your entire collection on one device, and get reacquainted with your favorite characters or refresh your memory of storylines at the tap of a button. True die-hard fans love the fact that the history of their own personal comic universe is at their fingertips.
These platforms take advantage of what digital does. Sure, you can do similar stuff in print but it will take you longer, requires more pages and just isn't as exciting. As told to VentureBeat earlier this week, "These are new and interactive ways of storytelling that really open up many possibilities for DC super-heroes."
No one denies the sheer joy of print comics. And it's not yet clear how the industry will perform sales-wise compared to its print-predecessors, as explained by industry vet Jim Zub. But there's a ton of awesome benefits offered by the digital medium you just can't get from the old-fashioned format. Good news for the home team! Click here to reserve your free copy of Biowars, a new digital comic coming this summer!
Categories: