Discover Marko's fantastic art!
Marko Djeska is a multi-talented artist from Croatia. He makes comic books, but he's also an animator, a scriptwriter and a storyboard artist.
As fans of Marko's, we sat down with him to ask about his process, inspirations and upcoming projects. Check out our one-on-one interview with him below, to get a glimpse into the mind of a comic book artist!
Marko regularly shares his art on his website and Instagram page, where you can explore his beautiful and intricate works.
Uncover the battle raging within. Read the BIOWARS comic book for free!
1. Marko, you're a versatile artist and you express your creativity through several mediums. What is it that you love the most about comic books and illustration?
Comics and illustrations require much less time than making an animated film, which means that I can tell my story much faster.
Depending on the style you want to go for, making comics often means you need to understand lots of other thigs, such as editing, composition, human anatomy, perspective and architecture.
That can be too much for a beginner cartoonist, but the more experienced you become, the easier making a comic book gets. That's why comic books are my favorite medium!
2. What does the process of comic book creation look like for you? Do you work on the story first and then the illustrations or do those two go hand in hand for you?
When working on a comic book, I start from scratch, i.e., the basic idea.
Once I create a solid story, I proceed to sketch the characters and write the script.
Then I define the shapes and do the inking.
I think that the idea for a comic book and the story are extremely important, so it's best to start from there.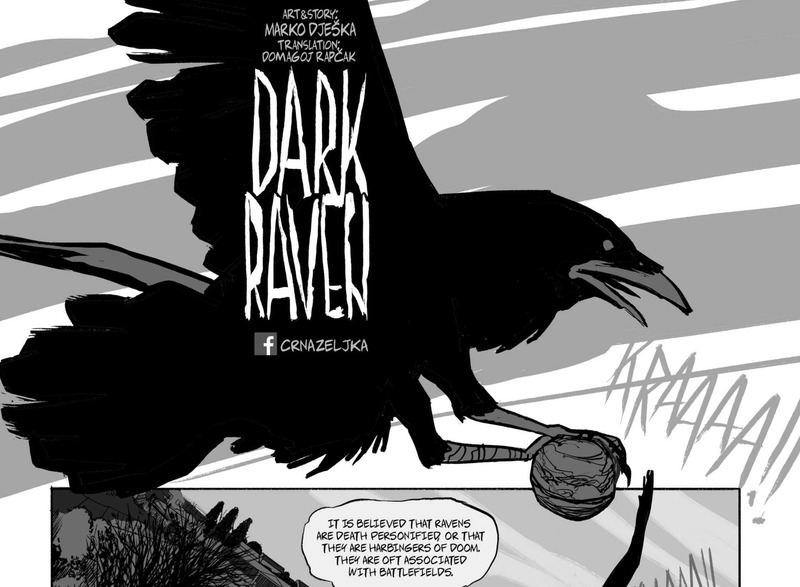 3. Where do you find inspiration for your stories and art?
I find inspiration for my stories and art mostly in my surroundings.
The social environment is inspiring enough in itself.
I also like to use science fiction settings for my stories. Action movies and series inspire me as well!
4. Your art often addresses important social, political and environmental issues, such as the problems of transgender people (All Those Sensations In My Belly animated video) and climate change (Green Company comic book). How would you describe the role that comic books and art in general have in raising awareness for particular causes and issues?
Throughout history, comic books have always addressed different topics, including complex social issues.
There are many stories that focus on different social phenomena, inconveniences and problems. For example, artists such as Robert Crumb and Franquin have published works that address some societal issues.
That kind of an approach to comic book storytelling is also typical of independent, underground and alternative comics.
The same can be said about animated art, especially short animated films that tackle sensitive social topics.
This is precisely why I think both mediums (animated movies and comic books) are important and useful for raising awareness about complex and important topics.
In my latest animated documentary — All Those Sensations In My Belly — I depicted the real life of a trans girl called Matia.
Green Company (Zelena družina is a one-page comic that's being published in a popular school magazine. I use it to tell the story of three superhero kids who decided to use their superpowers for the greater good — to rise awareness of climate change and the ways to stop global warming.
5. Did you have any influences or role models while developing your own creative expression?
Some of the authors I like are Jodorowsky, Moebius, Serpieri, Jinju Ito, Barbucci, Trondheim, Spiegelman, Fiona Stamples, Eastman, among others.
As someone who grew up in the late 80s and through the 90s, my artistic expression is also influenced by the films from that period, especially the science fiction genre. Some of the titles that have impacted my work are Forbidden Planet, Back To The Future trilogy, Alien, Star Trek, Star Wars and Stargate.
I am also inspired by many authors from Croatia and the region who have improved the local artistic scene with their dedication and art.
6. What would you say is the most important factor for someone trying to make it as a comic book artist?
One of the most important factors in becoming a cartoonist is self-criticism and openness to receiving constructive criticism.
If an artist has a big ego, they probably won't listen to other people's opinions about their work. I'm seeing that all the time in other artists.
Many of them don't realize that they can learn a lot and improve their work by listening to other people's opinions.
I think that learning constantly throughout your life is key. That means you should open yourself to constructive criticism because you can learn a lot from your audience.
Follow us on Instagram for more comic book art and the latest BIOWARS updates!
7. In some of your earlier works, such as The Last Fan, you used a lot of lines to add depth to your characters and shade them. Then you developed a very precise style with clean lines but still rich with details. What did your journey look like style-wise?
The Last Fan is the first professional comic I made while in college.
I studied at the Academy of Fine Arts in Zagreb and they favored traditional drawing techniques; some of my favorite techniques were charcoal and graphite on paper.
That's why I decided to do The Last Fan using those techniques, and they're relatively rare in comics.
In my early days of being an artist, I often experimented with different techniques and different styles until I developed my own.
Currently, I'm more into digital drawing on Cintiq, which allows me to do commissions faster and easily meet deadlines.
Check out how we drew the BIOWARS characters!
8. The moment someone stumbles upon your Instagram page, one thing's immediately clear — you're a big fan of Teenage Mutant Ninja Turtles! Is there any difference in your approach to work when you reinvent the characters we all know and love as opposed to creating new characters?
TMNT is the franchise I practically learned to draw with.
I watched the classic animated series Teenage Mutant Ninja Turtles as a little kid and I used to redraw the characters and episodes in my notebooks in the form of comics. Over time, I started adding my own characters and I made some of my first comics in pre-school.
It took me a lot of time (decades!) to go back to my favorite franchise from childhood, redesign the existing TMNT characters and share them on Instagram.
I've probably expected too much from myself since I worship TNMT, so it took me a while. Once I developed my own style as a professional, I felt encouraged to apply it to TMNT characters.
I enjoy it and it's fun, and at the same time, it's a good exercise to explore my own style.
View this post on Instagram
9. In 2022, you published 24 Hour Stories — a collection of the works you created during 24-hour comic book marathons. Do you think that participating in such events and social media art challenges is important for all comic book artists?
I think that the 24-hour comic challenge (originally founded by cartoonist Scott McCloud in the 90s) is the most important drawing challenge not only for comic book artists, but for all artists who draw, regardless if they make comics or work with other mediums.
This challenge is truly the best way to explore your limits when working under pressure.
You are "forced" to simplify your drawing style and refine your story in a limited time.
Creating a comic book and coming up with a story in only 24 hours is the best exercise of one's abilities, and I would recommend participating in this marathon to everyone!
Over the last ten years, I've participated in the 24-hour comic book marathons in Croatia and the region, and I can honestly say that they're always worth it.
By the way, the OG worldwide 24-hour comic drawing marathon takes place in October.
Subscribe to our YouTube channel and learn how to draw!
10. Can you tell us what's next in store for you? Any exciting comic books you're working on or plan on creating in the future?
I am currently working on an indie comic book project called Crater City in collaboration with an American screenwriter.  
I've been preparing it for a long time, and now it's finally time for it to see the light of day!  
Crater City is a coming-of-age science fiction story we've been working on over the last couple of years. A crowdfunding campaign will be launched in March this year. I'm also preparing a new short animated film project. 
Thank you for doing this interview with BIOWARS, Marko! It was so good to welcome you to the BIOCOSMOS. See you soon! 
To explore more of Marko's art, check out:
If you're interested in getting to know other comic book artists, check out these interviews with Sean Damien Hill,  Anthony Carranza, Lucius Cross, Joseph Falzon,  Gonçalo Lopes and Chrigel Farner. You can also explore artist profiles, including Jack Kirby and Jim Lee. 
Let us know in the comments below who you'd like us to interview next!
Categories: