Discover the best drawing tablets!​​
A drawing tablet is a tool that helps you create your art on a digital canvas.
Sure, you can draw on a piece of paper first and later scan and transform your work into a digital piece, but that requires extra hassle.
Digital drawing allows for a precise art creation process, enabling you to accurately draw a face, illustrate a horse, draw a comic book character or sketch pretty much anything that comes to your mind.
Let's discover the best drawing tablets that will allow you to tap into your creativity and make stunning digital art!
Uncover the battle raging within. Read the BioWars comic book for free!
The Best Drawing Tablets Guide — Who's It For?
This guide is for all the newbies dipping their toes into the world of digital art.
With so many drawing tablets out there, it's hard to know which one to choose if you've never used one before.
Now, as a team of creatives who made the BioWars comic book, we know a thing or two about digital drawing and what characteristics to look for in a drawing tablet.
Our team of illustrators uses digital tools to design the appearance of BioWarriros — the brave protectors of the immune system — and illustrate their daily fight with viruses and other germs that jeopardize the harmony within the Bioverse.
Aside from beginners, this guide is also for just about anyone in need of advice on what drawing tablet to buy or what tablet to replace their current device with.
So, whether you're a professional artist, a novice, or you just wish to express your creativity using a drawing tablet for fun, read on to find out which drawing tablet best suits your needs!
Check out how we illustrated the lead protagonists of the Biowars comic book!
How We Compiled The List Of The Best Drawing Tablets
To discover the best drawing tablets, we took into account the following parameters:
Pressure sensitivity
Responsiveness
Pen Type
Size
Customizability
Price
Resolution
1. Pressure Sensitivity
The pressure sensitivity of a drawing tablet is among the top characteristics to consider before making a purchase.
The greater the sensitivity, the more control you have over your strokes.
Pressure sensitivity is important because it allows you to create lines of varying thickness and opaqueness to add dimension, shadows, and highlights to your work. And you can manipulate the lines' weight with a single pen!
Our research has shown that a tablet with at least 2,048 levels of sensitivity is a must if you wish to have better control over your strokes.
2. Responsiveness
Responsiveness impacts the speed at which the lines you're drawing appear on the screen.
It depends on a tablet's operating system, its CPU, GPU, and RAM, which is why it's important to check the tablet's specs to avoid having issues with lag.
The tablets we included in the list have instantaneous responsiveness.
3. Pen Type
A pen, a.k.a. stylus, can be:
Battery-powered: Since they have AAA batteries inside, these pens are thicker, which can make them harder to hold if you have small hands.
Rechargeable: Rechargeable pens are usually narrower than those powered by batteries, so they feel more comfortable to hold. They need to be charged like your phone or a laptop, typically every eight to ten hours.
Electromagnetic resonance (EMR): This type of pen is the most convenient because it doesn't require recharging or fresh batteries. Instead, EMR styluses rely on the electromagnetic frequency, which wirelessly infuses them with the tablet's power.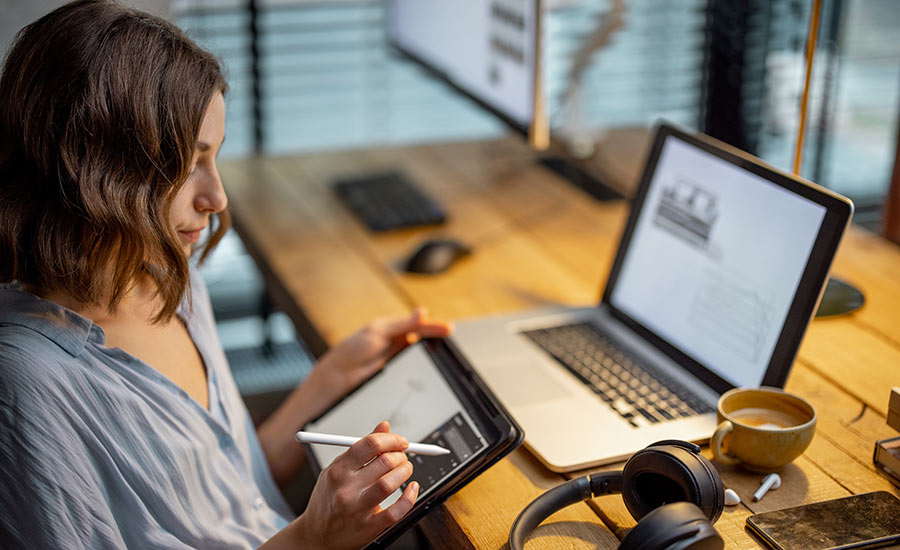 The tablets included in our list all include EMR styluses (aside from Apple's iPad Air) since they provide greater comfort and are more cost-effective since you don't have to buy batteries for them or charge them.
4. Size
Drawing tablets come in varying sizes. The smallest have an active area of about 6 x 4 inches, while the largest ones have an active area of more than 13 inches wide and a height of over 8 inches.
We realized that smaller-sized tablets are more convenient for beginners and hobbyists, while larger active areas (that's the portion of the screen you can draw on) better suit the needs of professionals.
5. Customizability
Every tablet includes certain controls, offering you the possibility to customize your work in a variety of ways.
The number of controls differs by tablet, but the ones that include more controls, allow for greater customization options, which is particularly convenient for pros!
Almost every drawing tablet on the list includes multi-touch displays and tilt recognition.
The former allows you to draw on the screen's surface with your fingers, while the latter means that a stylus includes a sensor that recognizes the angle at which you're holding the pen, enabling you to create different styles of lines.
6. Price
Drawing tablets we recommend for beginners cost less than $100. They are affordable, and they offer great value for the money.
On the other hand, we wanted to introduce you to tablets with multi-touch displays and tilt recognition, so we featured some more expensive models that are more geared towards pros than novices.
7. Resolution
A tablet's resolution impacts the quality of the art you create.
The higher the resolution, the more lines per inch (LPI) you can draw, i.e., the more details you can add to your drawing.
Most smaller-screen tablets have 2,540 LPI, while medium and large have 5,080 LPI.
Although the difference between devices of the same size is often insignificant, you should factor in the resolution when buying a tablet.
Follow us on Instagram and enjoy the latest Biowars updates!
3 Best Drawing Tablets For Beginners
1. One by Wacom Small
Who's it for: students & beginners
Pros:
Low cost
Fluid drawing
Easy set-up
Cons:
No multi-touch functionality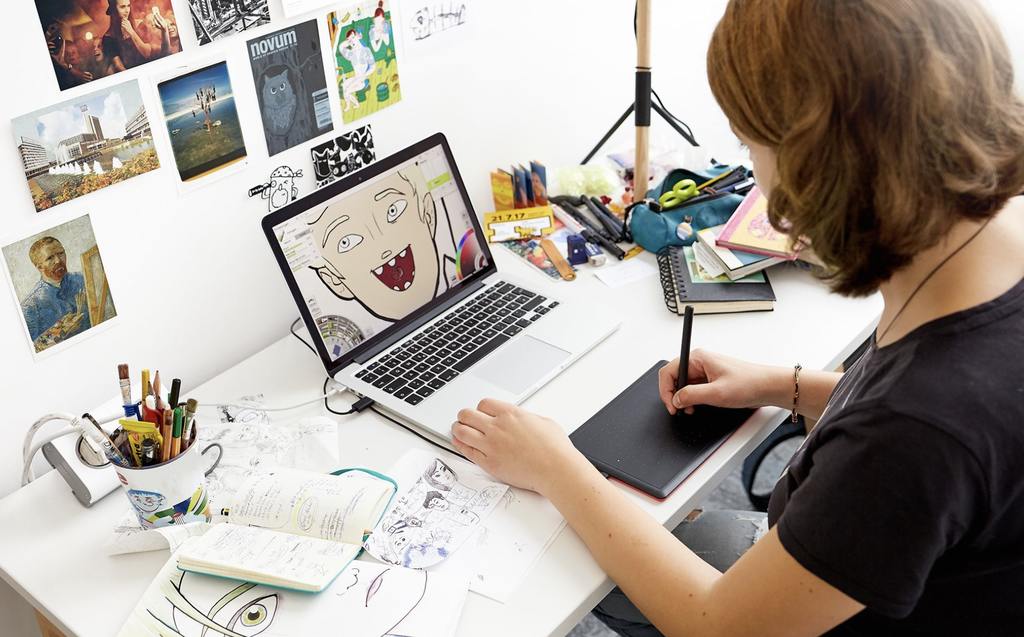 The One by Wacom in small size is this company's most affordable tablet.
It costs $49.95, which makes it the ideal choice for hobbyists, students, and anyone new to digital drawing.
The One offers a wide range of functionalities that allow for a seamless drawing experience. For example, it includes a three-month subscription to Clip Studio Paint Pro, which is a great software for drawing and creating illustrations.
This drawing tablet comes with an ergonomic EMR pen with 2048 levels of sensitivity, which means that you can easily create lines of various styles with it.
Its texture is paper-like, just like the Intuos', so you can have almost the same paper-pen-like experience as with the expensive model.
The active area of the One is 6.0 x 3.7-inches, which may seem small, but it should satisfy the needs of hobbyists and beginners!
2. Huion Inspiroy H430P
Who's it for: beginners & hobbyists
Pros:
Low price
Terrific value for money
Press Keys
Cons: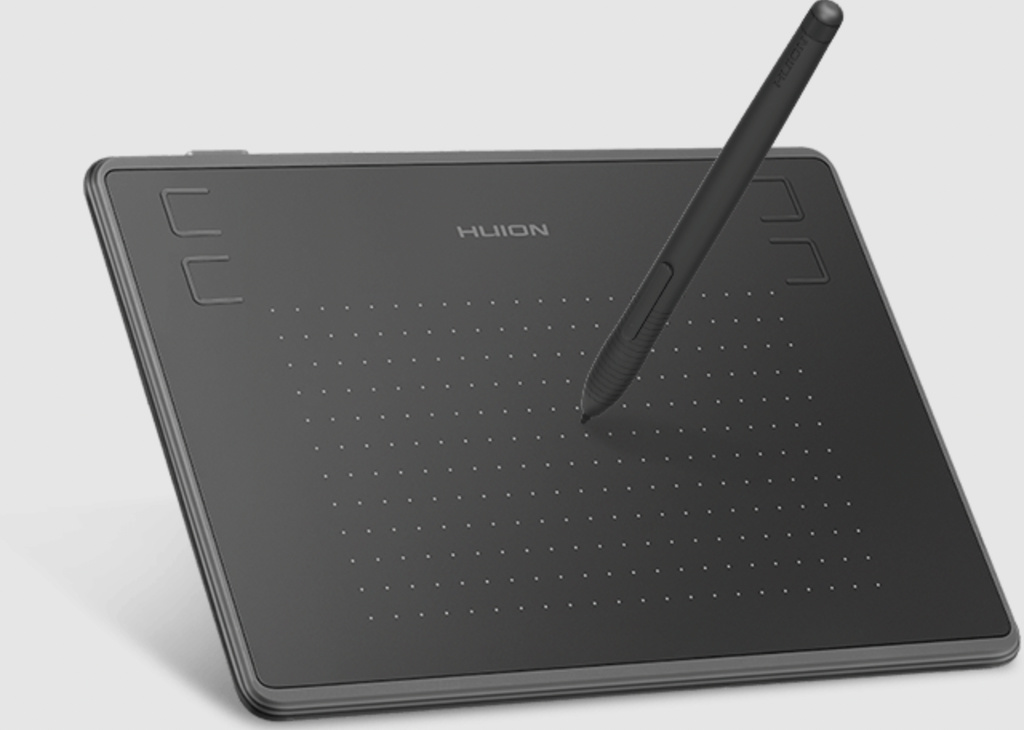 Huion Inspiroy H430P has a pen with 4096 levels of sensitivity, which is perfect for all novices.
The EMR pen feels comfortable between the fingers, making drawing on a 4.8 x 3-inch drawing surface enjoyable.
What's cool about the Huion Inspiroy H430P are its four customizable press keys, which allow you to quickly apply to desired functions.
As for the price, you can purchase this drawing tablet for $33.99 only, which makes it an excellent choice when you wish to see if digital drawing is for you, if you're a novice, or if you wish to create digital art just for fun.
3. Apple iPad Air 5th Generation
Who's it for: students, beginners & pros alike
Pros:
Powerful M1 chip
Low-latency pen
Liquid-retina display
Cons: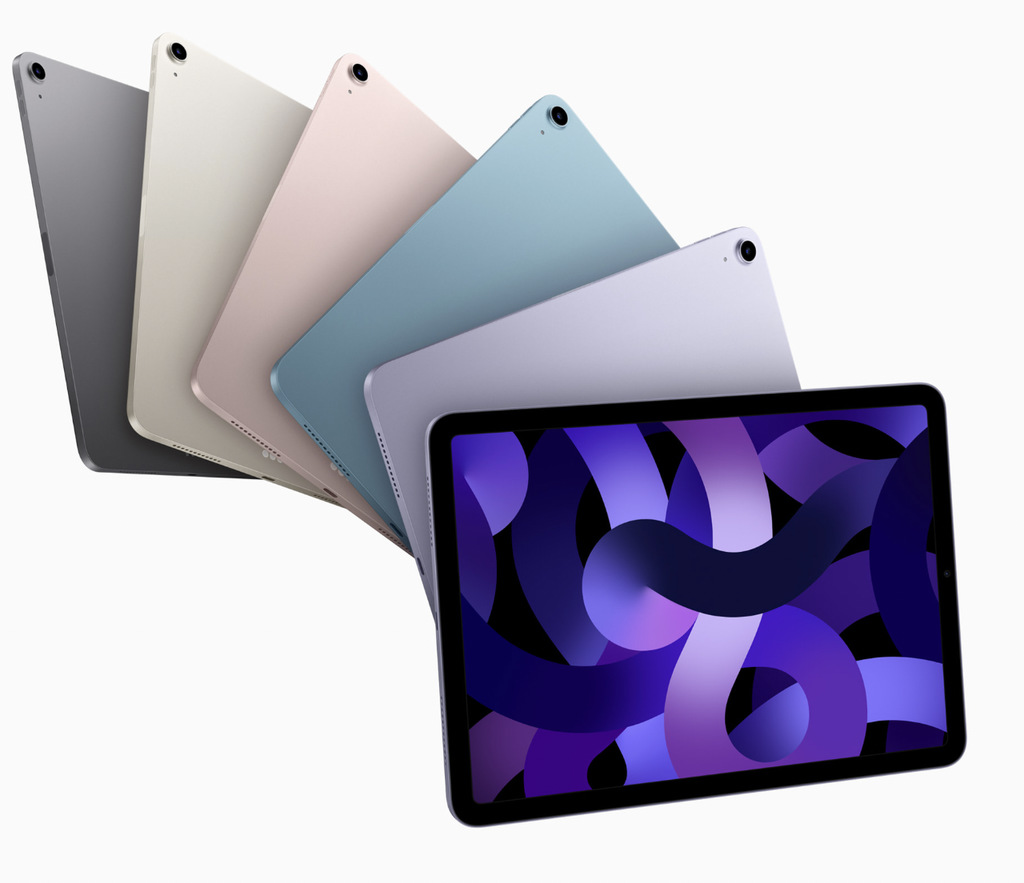 In March 2022, Apple unveiled the latest iPad Air powered by the remarkable M1 chip.
Aside from being a terrific tablet, you can use for anything from studying to gaming, this tablet is also an excellent choice for all creatives.
Thanks to the 2nd generation of Apple Pencils, you can draw on the iPad Air with great precision and lag-free. The pen also has tilt recognition and is fully pressure-sensitive, meaning you can draw lines as thick or thin as you like.
The 5th generation of the iPad Air includes the palm rejection feature, meaning you can rest your palm on the iPad's surface without messing up your sketch.
The latest iPad Air includes a 10.9-inch Liquid Retina display, meaning it's packed with pixels that make drawing a highly enjoyable experience.
Although the price starts at $599, this tablet is a fantastic choice no matter your level of expertise!
Want to make your own comic book? Follow this guide!
3 Best Drawing Tablets For Pros
1. Wacom Intuos Pro Large
Who's it for: professional illustrators & digital artists
Pros:
Great pressure sensitivity
Multi-touch technology
Tilt-response
Cons:
Price, if you're on a budget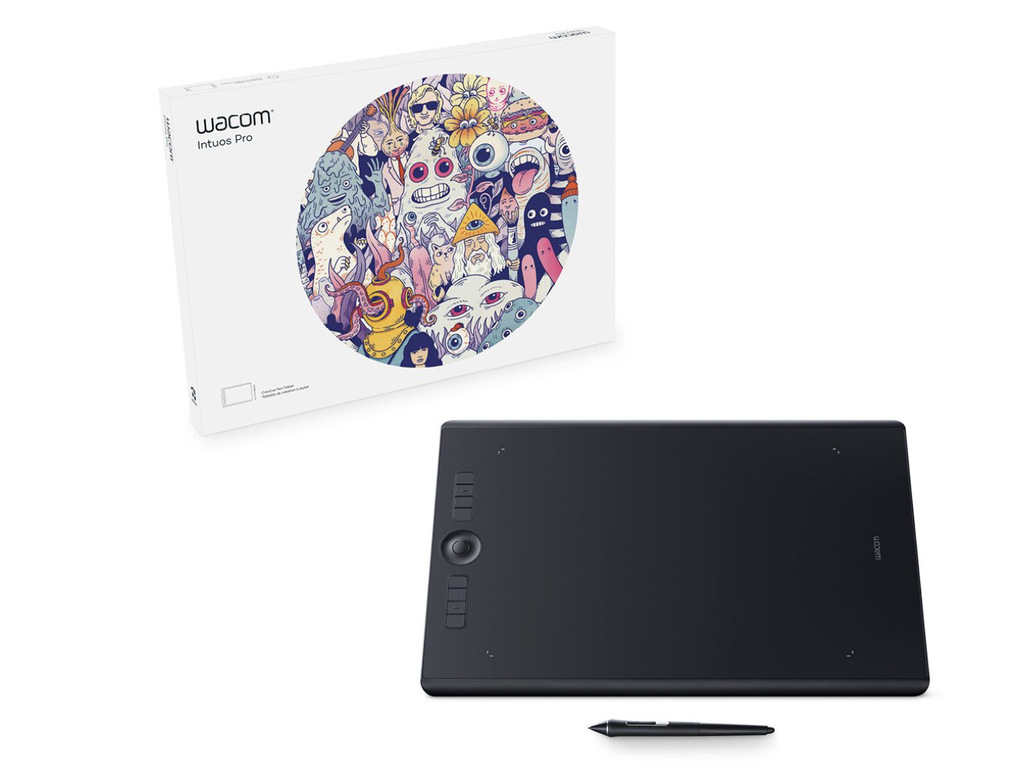 The Wacom Intuos Pro is arguably the best drawing tablet out there.
It features a whopping 8192 levels of pressure sensitivity, offering probably the most natural digital drawing experience of all tablets.
Wacom Intuos Pro is specifically geared toward professional artists, allowing for superb creative control over their art.
The tablet includes a super-sensitive EMR pen which almost feels like a regular pen.
Wacom Intuos Pro also packs a variety of ExpressKeys, which can be customized to your needs.
ExpressKeys are a convenient feature that enables you to access the most-used features with a single click.
This tablet has a 12.1 x 8.4-inch active area. Although it could be a bit bigger, it still offers plenty of room for expressing your creativity.
Another cool thing about the Wacom Intuos Pro is its Texture Sheets, which let you select a specific texture to draw on.
The Intuos Pro is a drawing tablet that doesn't have a screen. This means you need to connect it to a Windows PC or Mac, and the lines you draw on the tablet will then appear on the computer's screen.
As for price, the Wacom Intuos Pro currently costs $495.95, which can be a bit pricey if you're on a budget.
2. XP-Pen Artist 24 Pro
Who's it for: professional artists, illustrators and designers
Pros:
Superb sensitivity
Up to a 60-degree tilt
Plenty of shortcut keys
Cons: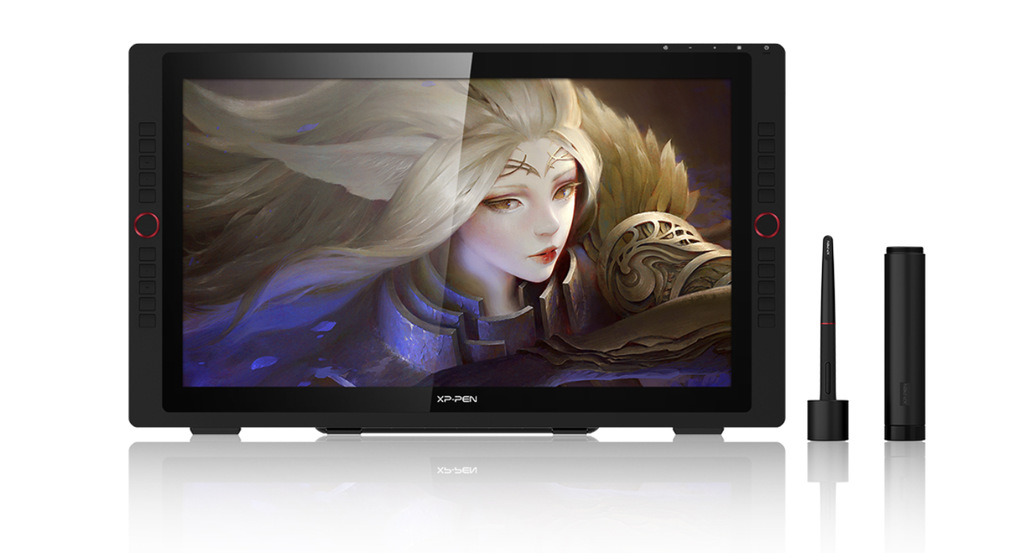 Alongside Wacom, XP-Pen is another company known for its excellent drawing tablets.
Their Artist 24 Pro is a remarkable device built to satisfy the needs of even the most demanding pros.
This tablet has an impressive 23.8-inch active area and 2K QHD resolution, i.e., 2560 x 1440 pixel resolution.
And since Artist Pro 24 is a display tablet, you aren't supposed to connect it to a PC or Mac. Instead, all the strokes you make instantly appear on the tablet's screen.
Needless to say, the pen requires no charging and no batteries. More importantly, it has a pressure sensitivity of 8192 levels, just like the Wacom Intuos Pro!
Artist Pro 24 usually costs around $899.99, but you can get it for $674.99 at a discount!
3. Xencelabs Pen Tablet Medium
Who's it for: professional artists and novices
Pros:
Pressure sensitivity
Tilt sensitivity
Quick Keys
Cons: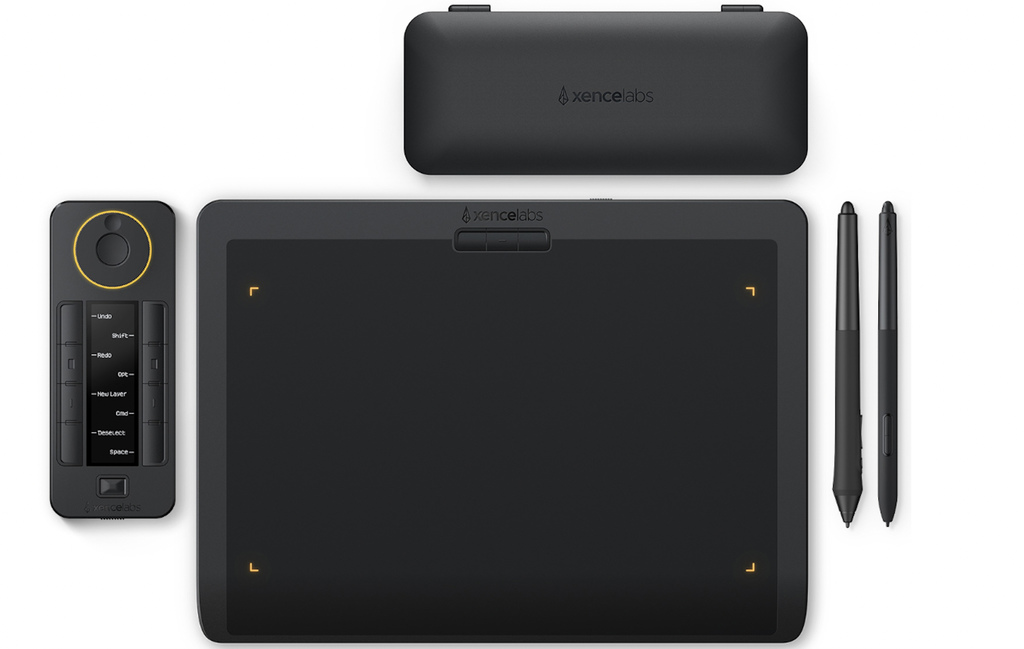 Xencelabs Pen Tablet Medium is a terrific drawing tablet that packs many features that make any illustrator's life easier.
For $359.99, you get a device with a 10.33 x 5.8-inch active area that offers a 16:9 aspect ratio.
What we particularly like about this tablet are the two types of EMR styluses — one slim and the other regular. The reason this is convenient is that you can use them for different types of lines or tasks so that you don't have to constantly customize one pen only. That can save you a lot of time!
To ensure your drawing experience is similar to that with a pen and paper, both pens have an 8192 pressure sensitivity level!
Xencelabs' tablet also comes with the Quick Keys device, which allows you to create five sets of eight programmable functions you use the most, e.g., "undo," "new layer," etc.
Considering how many cool and practical features this drawing tablet includes, it is probably best suited for pros. However, even if you're just starting out, we recommend you give the Xencelabs Pen Tablet Medium a go because it will allow you to develop your skills and create stunning pieces.
Learn how to draw a superhero and a villain in 6 steps!
So, What Is The Best Drawing Tablet?
Choosing the best drawing tablet is by no means an easy task, and it's also subjective.
After all, it all comes down to your preferences and requirements, but also your willingness to spend a certain amount of money on a new drawing tablet.
For beginners or hobbyists, the choice may be easier – you can start off with One by Wacom to decide if digital drawing is for you. Alternatively, you can also get the fifth generation of the iPad Air, since that's an all-around laptop that's also fantastic for drawing.
If you're a pro, you can't go wrong with Wacom tablets, but XP-Pen and Xencelabs also offer great value for the money and pixel-perfect precision.
Are you using any of these drawing tablets? If so, what do you like the most about it? If not, which one would you like to try and why? Let us know in the comments below!