Sifting through all the stuff that makes its way onto the internet only to find the best gems is no easy task, but every once in awhile a golden nugget like this floats within your radar and makes everything suddenly worth it.
Comic fans everywhere can (and should) appreciate this glorious Simpsons/Spider-Man mashup: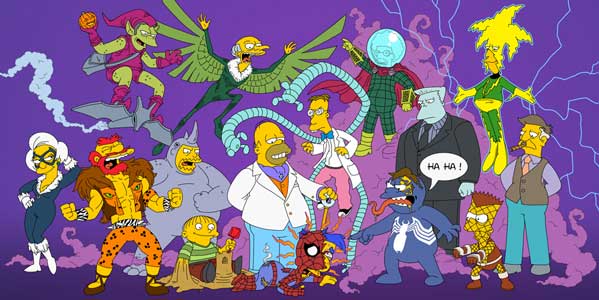 It was designed by Terry Ververgaert and posted on DeviantArt.
And that's pretty much the extent of the artist's online presence. For someone who got a heck of a lot of coverage this week (comics geeks ate this piece up!) we couldn't find much about Terry's background, what he's currently doing or even how to get in touch (other than his Facebook profile. He has an average amount of friends, so doesn't seem to be some kind of uber famous comic celebrity. At least not yet.)
He seems like a truly talented guy so we hope he's got himself a nice little gig doing something artistic!
Anyone who can skillfully recreate the Simpsons cast as villainous Spider-Man comic book characters, while remaining true to both original styles, is pretty frickin' gifted. As far as comic artwork goes, this is a masterpiece. The coloring and the lines are totally on point, which is probably why this piece has blown up this past week.
Terry – we tip our hats (and masks) to you.
Happy Friday everyone!