Did you always secretly feel like Wonder Woman and Wolverine would go great together? Us too. And why don't Superman, Captain Marvel, Batman and Spider-Man unite together as one unstoppable force?
This mish-mosh of superheroes (and comic universes) makes for an eye-catching collage. Artist Tom Bevan cuts out layers of comic book action and glory, arranging the pieces in interesting ways purely based on aesthetics and composition, rather than actual alliances or partnerships. This artistic freedom leads to some pretty intriguing color combinations and story juxtapositions.
Read issues #1-6 of the free digital comic book Biowars now!
You start piecing together similarities between characters you never knew existed. The differences between the DC and Marvel melt away, and a purer appreciation for the art-form is achieved.
Each piece carries a powerful nostalgic beauty. The tiny slivers and shards of color making up the background layers add to the energy of the pieces: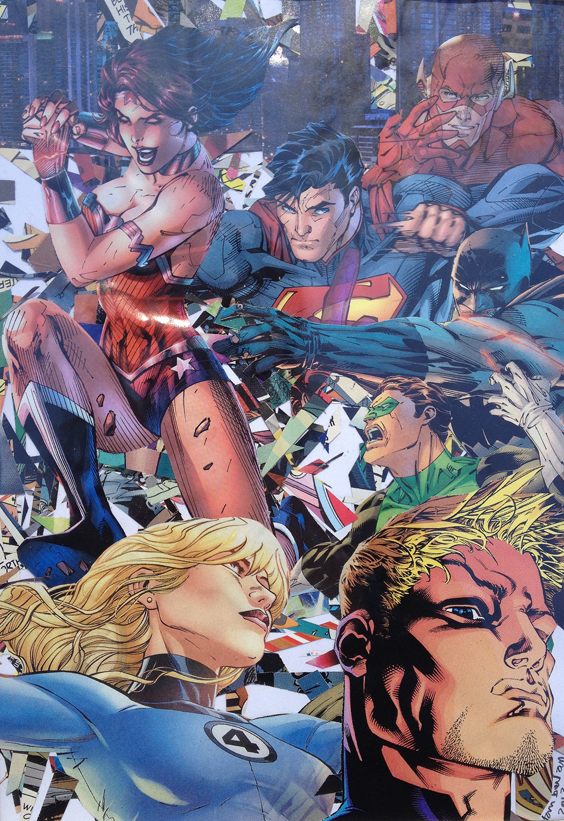 They're available as prints ranging from $25 to $40 each. To ask about a purchase, contact the artist at tobev46 [at] hotmail [dot] com. Or head to Union Square in New York City one sunny morning and pass by his table, like we did 🙂